The revolution of self-love.
Specializing in working with Adults, Families, and Teens healing through trauma, life changes, and self-expression.
About
Accept & Love Who You Are
Hello and welcome to my page. Thank you for being here and I am truly honored to be considered as being a witness to your healing. It takes courage and awareness to grow, shift, change, and evolve to be the best version of ourselves. At full of love therapy I aim to help individuals be connected to self and others from a place of kindness, compassion, and love. With 10+ years of experience I have worked with many presenting issues such as depression, trauma, anxiety, rites of passage/ transitions, and womens issues and family. I do this work because I hope to help others find their voice and really access their ability for empowerment and resilience after living in a sometimes unjust world. I bring with me compassion, love, reverence, and humility to truly meet you where you are at and help you dive deep in your depths to where you want to be. I have worked with a broad range of people- and believe the most important thing to offer is our stories and how to access our voice to tell them. Thank you for letting me be a part of your story, I look forward to connecting soon. As someone who is also working to heal intergenerational trauma, it is a pleasure to walk alongside and witness, transform, and tap into the collective power of healing. I work from a multicultural, empowerment perspective, which integrated tools from EMDR, DBT, and psychodynamic approaches. I want to meet each person where they are, which means that each approach and treatment is tailored to fit your needs and preferences. An initial consultation will be offered to assess whether we may be a good fit.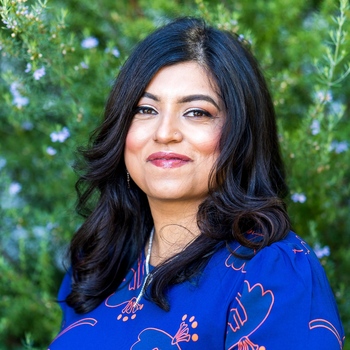 Snehal Shah, PsyD
Psychology
Services
Anxiety
Depression
Trauma
Women's Issues
Family Conflict
Relationship Issues
Abuse Survivors
Child or Adolescent
Approaches
Cognitive Behavioral Therapy (CBT)
Family/Marital Therapy
Dialectical (DBT)
Psychodynamic Therapy
Eye Movement Desensitization & Reprocessing Therapy (EMDR)
Location
Bodhi Initiative
Oakland, CA 94609